'72 Chevy Pickup
This '72 Chevy Pickup was built using the AMT Hot Trucks Series kit. This truck is the tow vehicle for the "55 Chevy Bel Air Pro Street also featured on this site. I will eventually build a racing trailer to complete the set.

I began by modifying the chassis to take the large 23" Torque Thrust II wheels and tires by Pegasus. I used vented disc brakes, also by Pegasus on which I added brake lines from Lex's Scale Modeling. Both the wheel set and brakes came from Rpp Hobby. I opened up the exhaust to give them a more realistic appearance. The suspension was altered for a lower stance.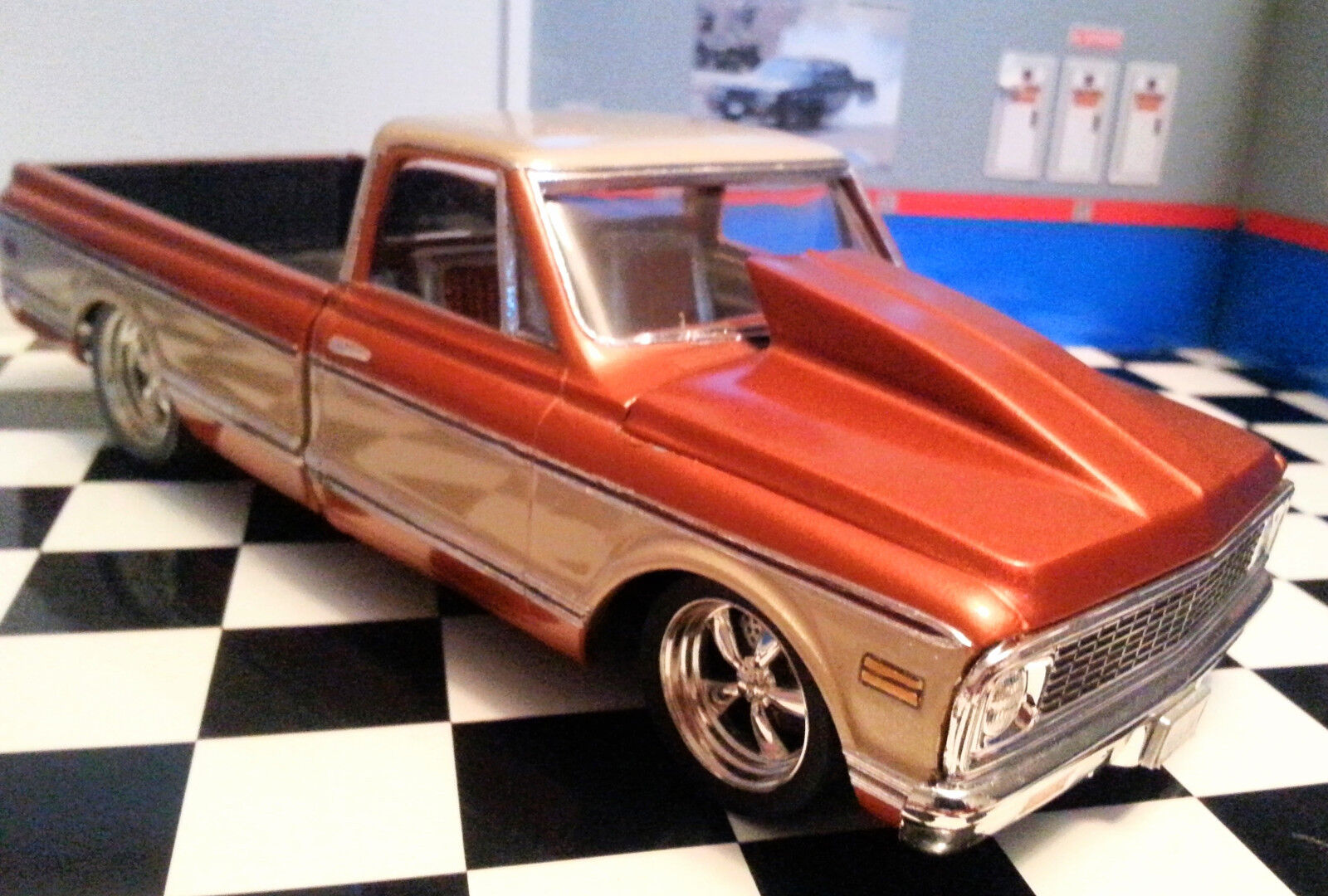 I did not use the kit supplied engine. I wanted a more potent powerplant for this one. The 427 ci. fuel injected big block with a high rise intake from AMT's '67 Impala SS Street Machine was the perfect match for the large engine bay of this Chevy hauler. I painted the block and intake to match the body color. The valve covers were painted using Alclad II from a rattle can. They came out ok but I prefer using Alclad via air brush. Of course I added red spark plug wires and the required fuel lines. Both from Lex's Scale Modeling. I also added heater and radiator hoses from Lex's Scale Modeling and wired the battery and alternater. If you look closely you can see the LSM brake lines.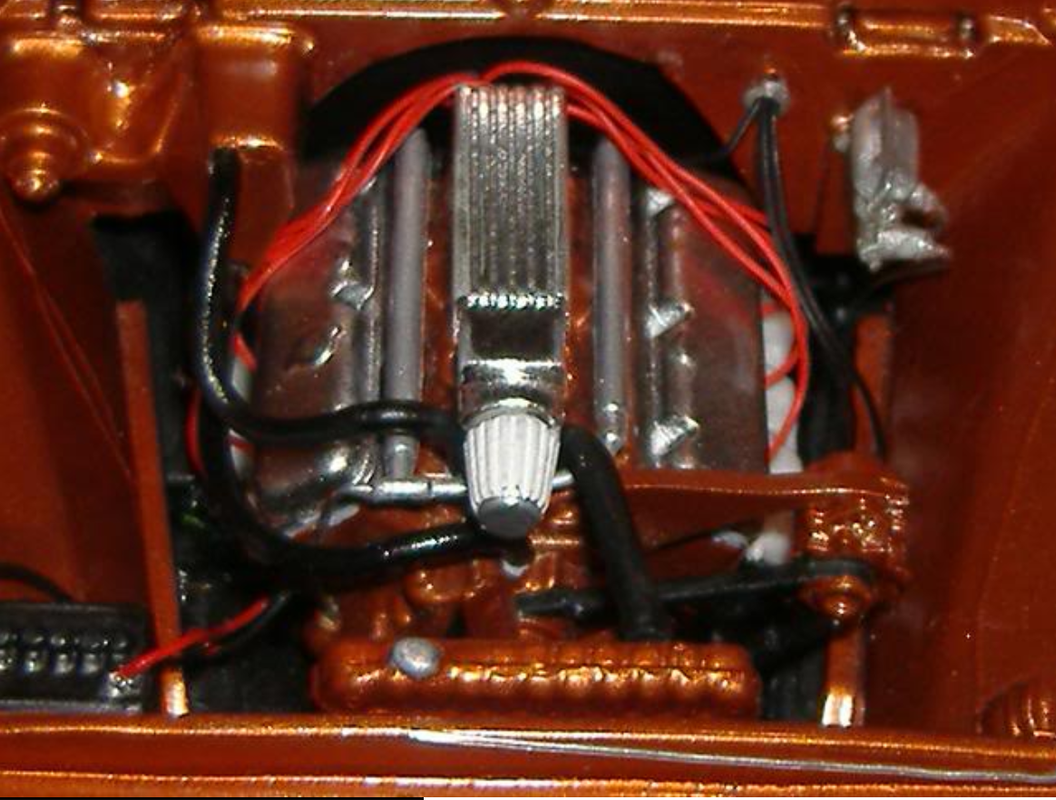 The interior is basically stock. I painted it to match the exterior colors. Instead of the column shifter, I used a floor shifter from AMT's '70 Super Bee kit. The turn signal handle was made from a regular stick pin. It came out quite nice.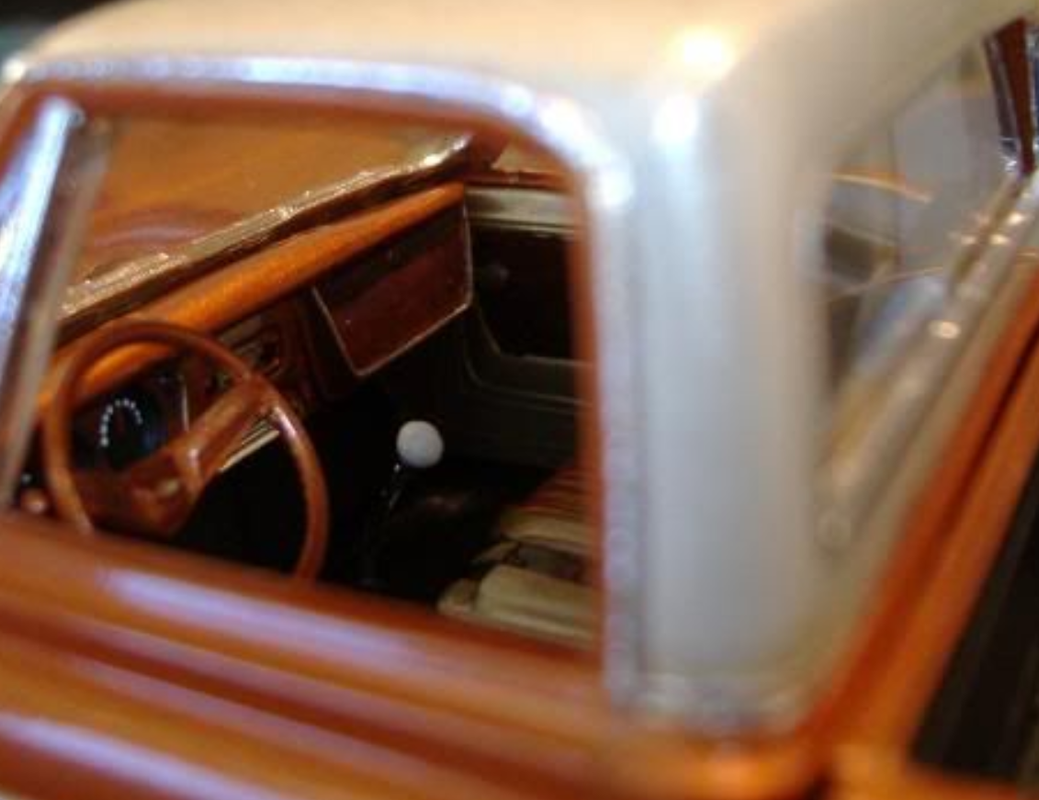 The first thing I did to the body was remove the Chevy Cheyenne emblems from the front fenders. I wanted this truck to at first glance appear stock so I kept the Cheyenne trim package and painted the body in the customary Cheyenne two tone. The exterior colors are Dupli-Color Orange Mist and Champagne Pearl over a white base. The exact same colors used on my '55 Bel Air. The Resin Cowl and Outlaw Hoods are from LSM. I tubbed the bed to accept the larger rear wheels and tires, then painted it flat black to resemble a sprayed on bed liner because this is after all a work truck. The inset bed cover was made from sheet styrene from Evergreen. The Texas HAULIN plates were made using ACME License Maker.