'70 1/2 Chevy Camaro Pro Street
This car was made from the AMT '70 1/2 Camaro Z28 kit. I first narrowed the rear end and tubbed the chassis. I then cut off the molded gas tank using my Dremel tool. The suspension is basically box stock. The rear slicks and chrome Crager wheels came from my parts box. I made the rear Cragers deeper by adding chrome extenders.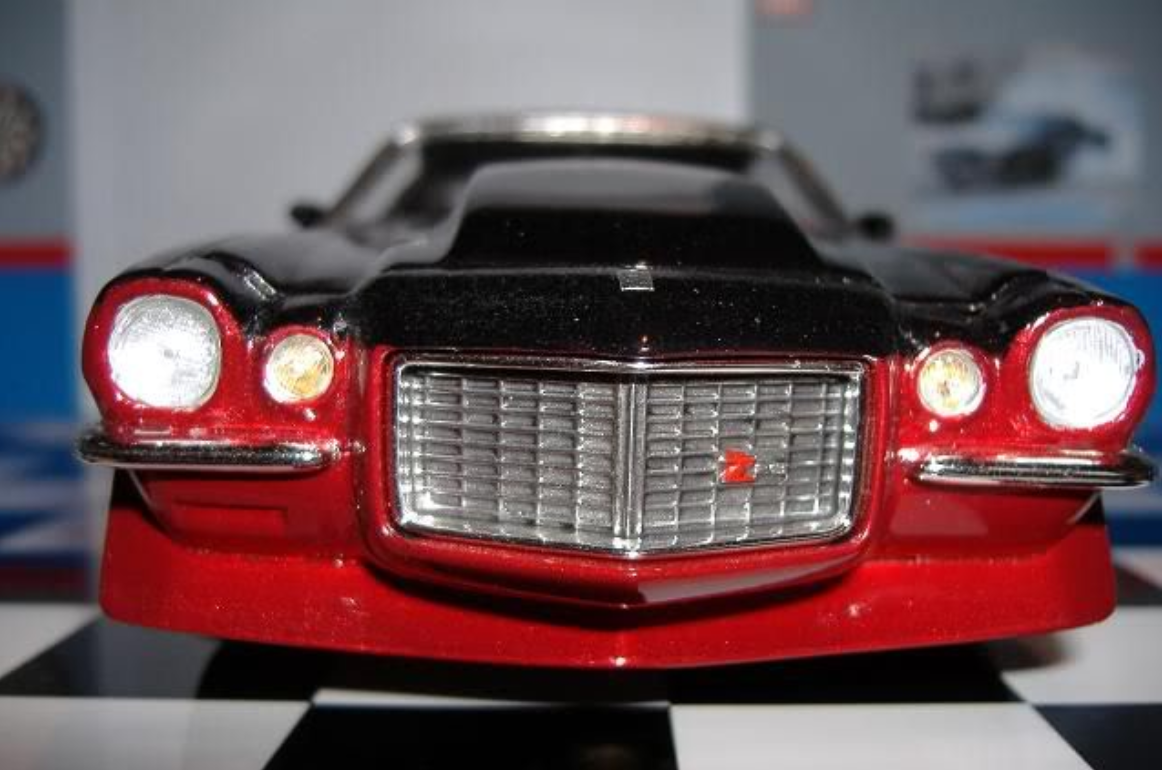 I used the small block 350 supplied with the kit. It was painted with Dupli-Color Sunburst Gold auto paint. The resin hi rise intake and dual carbs came from Psf Hobby. The red ignition wires are from Lex's Scale Modeling. I used braided metal fuel lines from Model Car Garage. The compression fittings were made from aluminum tubing. I got the valve covers from my parts box and scratch made the side exhaust. The brake lines are from Lex's Scale Modeling.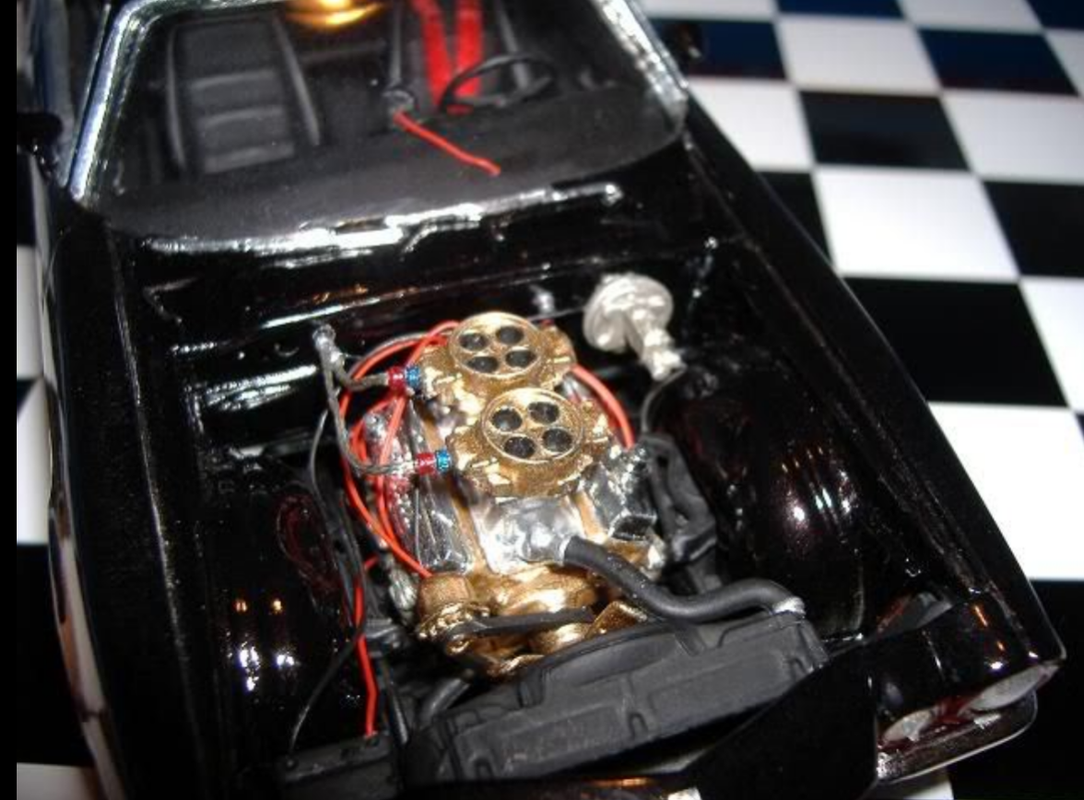 For the interior I replaced the stock front buckets with racing seats purchased from Model Car Junkyard via Ebay. The seatbelt material came from Lex's Scale Modeling. The wired and detailed tach came from the parts box. I scratch built the roll bar using styrene rod from Evergreen. There are no rear seats.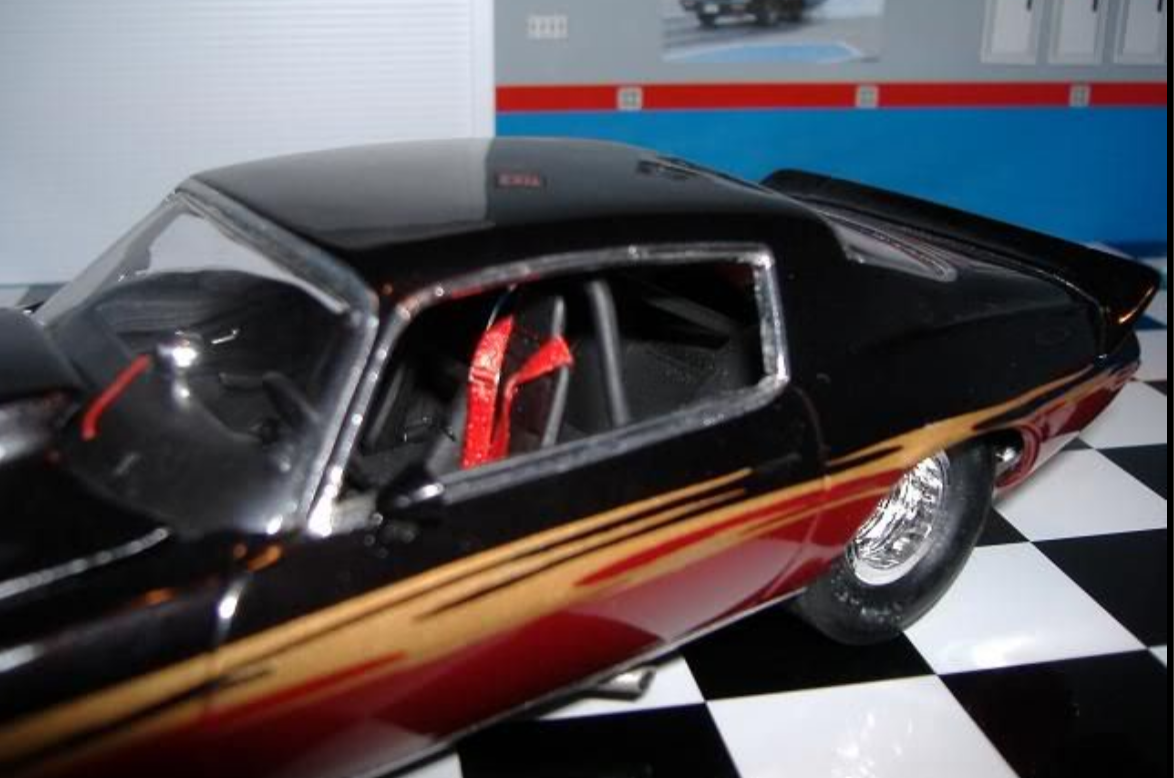 The body has no modifications other than the resin hood from Psf Hobby and the modified Baldwin Motion rear spoiler that came from the "70 1/2 Baldwin Motion Camaro kit by Amt. I used a flame paint mask from Rpp Hobby for the Sunburst Gold flames. The other body colors are Duplicolor Black Mica and Cherry Red Metallic. Bare Metal Foil was used for the chrome trim. The BAD Z28 license plate was made using ACME License Maker.
Model Car Cafe Model of the Month December 2006